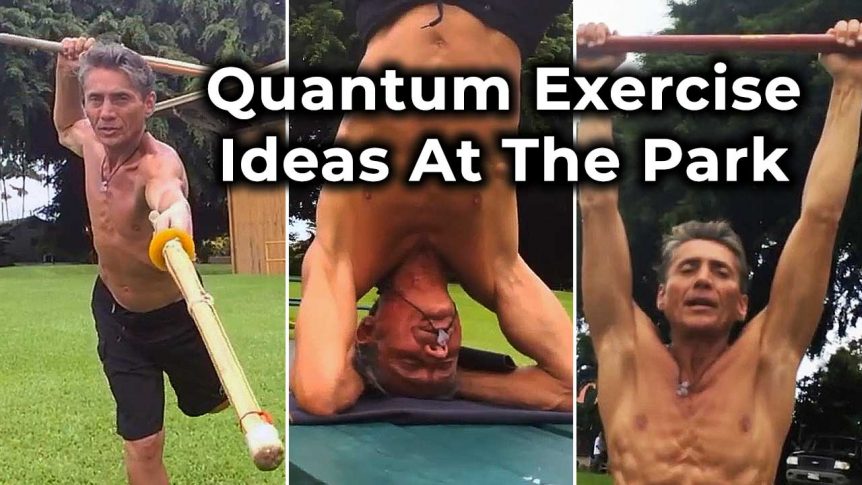 Quantum Exercise Ideas At The Park
I will show you various ways I work out the entire body in the park, if you have the will and a little energy, without the use of any expensive gym memberships, and with a few select exercise tools.
Exercising in the Park is a lot of FUN and it's FREE!
For 6 months, I stopped going to the gym and started working out in my backyard, and at the local park to see how effective the workouts would be compared to the gym.
Lots of people say they cannot afford a gym membership, or they don't have the time. These are the two biggest excuses I hear all of the time.
I know you will get a few ideas watching me in the park, which you can use to make up your own routines without the use of a gym membership.
Most people are generally physically weak, and mind lazy. So, it's hard for them to make a commitment on a costly gym membership, or wanting to put in the time and effort for their health and well-being.
The Secret To Strengthen Your Body
When your exercise and train the entire body 3-4 times a week, for at least 45-60 days with resistance training, you will start to feel the benefits of resistance exercise in your daily life.
If you have never exercised consistently before you may feel weak, and your muscles, joints and tendons may get really sore and stiff. These symptoms will come and go for several weeks, or even months depending how hard you train.
The pain and soreness in your muscles is usually a good sign they are being stressed enough and slightly inflamed, from the exercises you are doing. Muscle soreness usually only lasts a few days.
When we start to use our muscles for resistance training, the muscles, ligaments and tendons all have an adaptation phase to the increased resistance training. This adaptation phase can take several weeks to several months to overcome the feeling of muscle and tendon weakness and sore muscles.
So, please don't get discouraged at first if you feel weak and uncoordinated with the new physical movements and balance. And, if you have not trained your entire body before don't get intimidated with all of the new ideas or ways to exercise with resistance.
In time your body will adapt to its new profound strength, flexibility and increased stamina levels.
Again, it is always a good idea to at least train the whole body with resistance training 3-4 times a week, for at least 45-60 minutes.
I bring a duffle bag with various tools for exercising and stretching, and to aid my in my balance and exercise routines. I bought most of them on Amazon or at a sporting goods store I will go over the use of these exercise tools in the video.
Exercising outdoors is one of the best ways to get fresh air. Away from toxic air conditioners, heaters and WIFI (or Wi-Fry – wireless technologies) that is in every gym or business now a days.
Personally, I am very sensitive to RF microwave fields like WIFI, cell phones, cell towers, smart meters or any wireless smart technologies in general. So when I am away from all of the wireless I have much more long lasting energy, and I am very enthusiastic and happy about training 🙂
These artificial pulsed microwave field energies make me, and many other electro sensitive people, feel tired, unenthusiastic, slightly depressed, cranial temple pressure and sedated, to name a few.
In my opinion all wireless technologies should be avoided as much as you can, especially while exercising or trying to learn something.
I am very lucky to live in Hawaii where nature is everywhere. Most cities have several beautiful parks that are set up for children and adults to exercise and play.
I always feel the best with my outdoor workouts, as I am only listening to the sounds of nature. It's like a beautiful peaceful meditation for my mind and body away from the dysfunction and noise of civilization.
Outdoor exercise is such a revitalizing experience. You can listen and enjoy the birds singing, the wind blowing through the trees and the energetic sun which all help charge the body, and relax and retune the busy mind while nourishing the body.
When I use the indoor gym, I will always listen to my own music just to drown out the jibber jabber of people, or the usually poor selection of music they are playing.
I get super charged from the sun, and grounding with the earth retunes my whole body energetically.
When you don't feel well with your emotions (depressed, sad, frustrated, angry or anxious) these outdoor exercise protocols are one of the best ways I have found to remove a lot of internal emotional baggage, stuck inside most of us.
In my current exercise routines, I use a variety of balance movements coupled with strength exercise endurance routines. This took me a few years to learn to train a whole set of new muscles.
Remember, consistency is the way to advance with resistance training.
Recommended Courses and Categories: Balancing The Brain Hemispheres, Radio Frequencies, Quantum Exercise and Exercising without Money.
Recommended Products: AmazonBasics High Density Round Foam Roller, AmazonBasics Resistance and Pull Up Band, WODFitters Workout Exercise Bands, Yoga Block and Yoga Strap Set and Perfect Fitness Perfect Pushup Elite.
Hope you enjoy this "Quantum Exercise Ideas At The Park" Video Course 🙂
Dr. Robert
To see the following Video(s) and Recipes you have to be an Earther Member.
To become an Earther Member Click Here!
or Login to see the Private Videos.
Subscribe To Our Newsletter!
Join our Free Informative Newsletter to receive future updates on our next WORLDWIDE ONLINE Life Transformation Group Guided Retreats, and get access to a Selection of Private Videos. You will also receive a coupon for 25% Discount Coupon for Earth Shift Products!
The Earth Shift Discount Coupon is good for one-time use, and is valid for 25% off an order of $200+. This code includes free ground shipping within the 48 contiguous states. This code cannot be combined with other promo codes.