Magnetizing Our Lives: Blenders, Beds & Bottles
Magnetizing our Lives: Blenders, Beds and Bottles for Supporting of Intermediate/ Advanced Detoxification and Rejuvenation of the Body and Mind Therapies is the the theme of this Video Course.
Part 1 talks about the Philosophy and Mini Lecture, and Part 2 is a 2 hour Private Workshop.
How would you like to lay on a Biphasic Magnetized Mattress while you sleep? Why would you want to is the Big Question?
Using the magnetite of the Earth is very smart therapies that have been used for 100's of years.
When you spend the time and practice these very real and inexpensive therapy and philosophies, you will see the power of biphasic magnetics in action.
This is a group oriented workshop at the Health and Wellness Retreat Center in Hawaii.
We are going to talk about the ideas, disciplines and concepts of biphasic magnetism and the effects on health and wellness, and go over the various polarities that one can use for various effects.
I like to use these static magnetics that are very effective in dissolving many accumulated Oxalate's and other inorganic toxic materials / parasites that are released with biphasic magnetism and multi polarity charged waters.
Your body may start to ache and have a lot of detox effects in a variety of ways. If you get detox reactions then please stop using the magnetizing therapies.
Part 2 is the group workshop to show you a variety of Hands -On Visual Real Time Workshops. How we make our own Magnetic Mattress and other Magnetized Utilities.
Please take notes as we are going to cover lots of new areas that you most likely are not familiar.
These are very powerful detoxification devices that you can make on your own.
So, be careful as always. Start slow and increase with time is always the best way to start anything new.
It is always best to learn with a partner to share, learn, teach, investigate and a new way of looking and practicing with new exciting new concepts, disciplines and protocols.
I have used this therapy on myself for over 10 years. Yoga and stretching will be much easier when following these protocols.
These protocols have worked wonders for me and hundreds of people I have shown this too. its all a work and experiment in progress.
Ask your holistic doctor if you can use magnetic therapies before using them.
You can see more great videos is our Becoming your Own Doctor Section.
Recommended Products: Ceramic Magnets 7/8 x 7/8 x 3/8 – (recommended Gauss Strength: 3500+)
Hope you enjoy this Magnetizing Our Lives: Blenders, Beds & Bottles Lecture and Workshop :))
Dr. Robert
To see the following Video(s) and Recipes you have to be an Earther Member.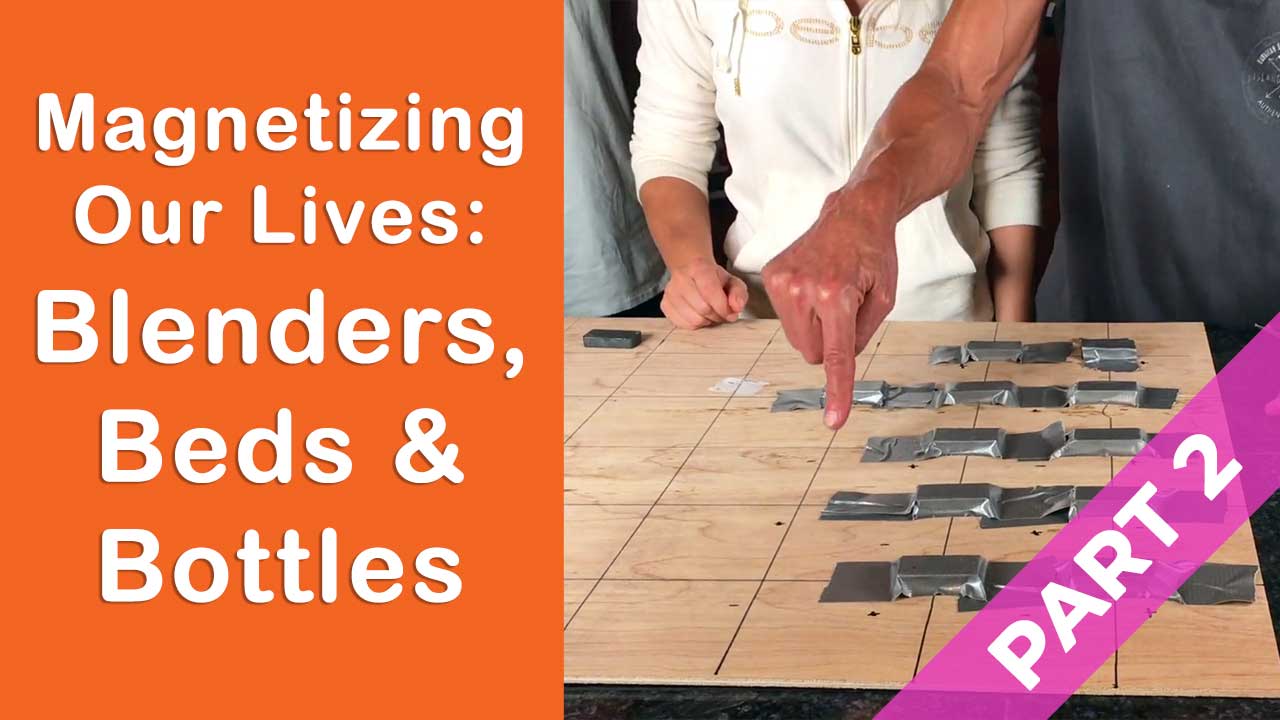 To become an Earther Member Click Here!
or Login to see the Private Videos.
Subscribe To Our Newsletter!
Join our Free Informative Newsletter to receive future updates on our next WORLDWIDE ONLINE Life Transformation Group Guided Retreats, and get access to a Selection of Private Videos. You will also receive a coupon for 25% Discount Coupon for Earth Shift Products!
The Earth Shift Discount Coupon is good for one-time use, and is valid for 25% off an order of $200+. This code includes free ground shipping within the 48 contiguous states. This code cannot be combined with other promo codes.