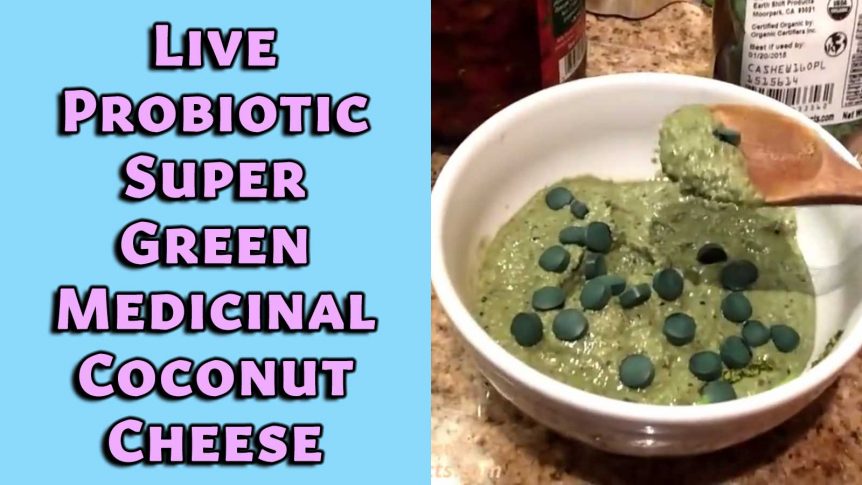 Live Probiotic Super Green Medicinal Coconut Cheese
Live Probiotic Super Green Medicinal Coconut Cheese – We call this "Medicinal" because it totally is, and this recipe is a complete super nutritious meal in itself and full of live nutrients.
To get really healthy ( and be basically impervious to simple dis-ease ) we all need to learn Ferments and train the intestines to break down the foods we eat.
Ferments and Live Good Bacteria are what we crave daily to stay healthy, wealthy, happy and wise.
Remember, we make these "Medicinal" Live Ferments ourselves for pennies on the dollar, and way much better than you could ever buy at the store.
This is one of my favorite healthy Green Coconut Cheese Probiotic inventions I make consistently, instead of Live Hummus a lot of times. It's good to have a lot of different recipes.
I call it the "A-Live Probiotic Super Green Medicinal Coconut Cheese" – I say its alive because it is truly alive. The longer you have it living the better it gets.
This is an excellent essential addition to your cooked meals, because the intense good bacteria in this elixir frees the body to help digest the foods that are not to easy to digest.
The so called "Good Bacteria" are the house cleaners of the body and the mind. It's a good idea to watch the rest of the fermented video series to add these live super nutritious fermented delights to all of your meals even dressings, sauces, hummus and smoothies.
After I blend this up I let it sit out on my counter for a day, and then put it into the refrigerator. Even if the cheese gets a strong fermented flavor this is only a sign that the elixir is fully developed and matured.
Enjoy the "Live Green Cheese" as a Super Snack, Live Condiment or an entire meal with crunching on some wheat, corn and soy free crackers like Rice Crackers or Caraway Crackers.
I also like to eat broccoli, zucchini, okra, carrots or any other vegetable that has a good crunch to it.
Cut pieces of Jicama Fruit are crunchy and raw, and excellent with this Green Non Dairy Cheese" as well.
When you are hungry try to have a spoon or two with a few live fermented veggies to fill the void.
Recommended videos:
Live Probiotic Super Green Medicinal Coconut Cheese Recipe:
Optional:
Organic Chipotle Pepper
4-5 Sundried Tomatoes for flavor
1 tsp of Organic Capers
Add either 1 of the Earth Shift 16 strain probiotic bacteria or use 1 tbsp of your Live "Master Ferment Bacteria" that we have shown you how to make in our Ferments section.
Add 1-2 ounces of Organic Raw Sugar
Most products can be purchased at earthshiftproducts.com.
Blend it all together on high for 20-30 seconds. You can add some distilled water to make your drink more liquid.
Always use a Bisphenol-A free lid and tighten it on tight. Burp it a few times the first day if you need to release some of the bubbles, and you can always stir the recipe a few times a day to release the bubbles when fermenting.
Let this recipe sit on the counter for a few days so it can ferment and the bacteria can eat the sugar and replicate.
2-3 ounces of Organic Walnuts or pine Nuts need to be soaked in Fulvic Acid – Please watch "How To Soak Your Nuts and Seeds".
Make your own custom recipe as you wish. This is my fail safe recipe and it took me over 15 years of experimentation and research to get to this point.
If you don't have an Earther Kitchen you are missing out for sure.
Hope you enjoy this "Live Probiotic Super Green Medicinal Coconut Cheese" Video :))
Dr. Robert
To see the following Video(s) and Recipes you have to be an Earther Member.
To become an Earther Member Click Here!
or Login to see the Private Videos.
Subscribe To Our Newsletter!
Join our Free Informative Newsletter to receive future updates on our next WORLDWIDE ONLINE Life Transformation Group Guided Retreats, and get access to a Selection of Private Videos. You will also receive a coupon for 25% Discount Coupon for Earth Shift Products!
The Earth Shift Discount Coupon is good for one-time use, and is valid for 25% off an order of $200+. This code includes free ground shipping within the 48 contiguous states. This code cannot be combined with other promo codes.