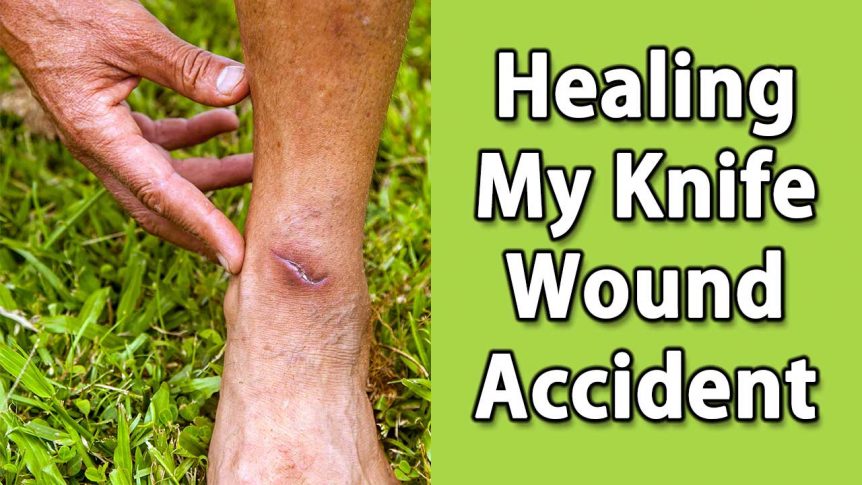 Healing My Knife Wound Accident
Healing My Knife Wound Accident – A 30 day Rapid Healing Journey using simple "Terrain Modification Protocols, Practices and Principles".
This is a 2 part Video Course on a 30 day journey of my personal Rapid Wound Healing, Story, Progress, Protocols, Treatments of my Knife Wound Accident.
Both parts have many short mini lectures and daily workshops on how I treated this really deep laceration and wounds in several areas without any typical medical intervention, and what and how I used over the counter products to rapidly heal the wound without any infections at all.
We are also going to show you how I stopped a deep infection the bottom of my foot from a piece of glass that festered a painful infection in my heel.
What would you do if you could not use a traditional hospital, doctor, clinic, pharmacy, antibiotics, sutures etc. for some accidents or injuries ?
This is a huge problem in the world for many in all areas of life and social status.
I am not asking you to do any of the protocols, practices or principles this is what I did to rapidly heal these lacerations and wound.
I personally performed these treatments on myself, and experimented with many over the counter products, without surgery or pharmacological synthetic chemicals we call medicines.
Again I am going to show you how I attended to this deep wound without intervention from the traditional medical establishment.
Part 1 is 1.5 hours long and I am going to go through my story, over a 30 day period, of the day by day progress and several short mini lectures with lots of great information for public view.
Part 2 is 1 hour 20 minutes long and we will go over daily progress protocols, practices and treatments I did over the 30 day period.
Part 2 specifically is about how I personally treated and healed this deep laceration using only over the counter products without any stitches, medical or surgical intervention. Part 2 is only on EartherAcademy.com because of the sensitivity of all of the non traditional medical treatments I performed on myself.
Ask yourself the question again: "How would or could you navigate these deep lacerations, infections without stitches, steri strips for sutures, antibiotics, pain medications, any prescription medications or any medical attention?" – other than what I have learned over the past 40 years using over the counter products which I will show you how to use.
I was in the Amazon last year, and we traveled all around the country for several weeks and could not believe the people living in the mountains, suburbs, who are farmers, workers of all types who don't have any medicines, doctors, clinics, hospitals at all.
Aspirin antibiotics and simple health and medical supplies are very hard to find indeed.
Acute and chronic infections are the number one concern with any lacerations. Flesh Eating Bacteria and or other Super Virulent Bugs can get into any wound and cause severe problems with gangrene or other deeper infections such as the bone or blood.
Getting an infection is something never to play around with at all, especially since there are so many cases of almost incurable infections.
Some infections cannot be stopped and actually kill the person in a matter of days to weeks.
So How Do We Make Sure We Don't Get A Flesh Eating Bacteria Disease?
Most people close the wound to make sure it will not get infected, but I am going to keep it non covered and will not have the 20 or stitches it should have had at the hospital.
I have personally hand stitched skin injuries many times before, and this cut could have taken 20 or more stitches for sure.
These treatments will be a personal experiment to test out the protocols on myself again, and share the results and finds with you. I really wanted to see how I would treat this laceration without the use of any traditional Western Medicine.
I am going to act like I could not go to the hospital and get this treated and stitched up.
Earther Academy is the private platform where I share a deeper layer of learning and practice in many areas, mainly in detoxification and rejuvenation of the mind and the body.
Most of what we share on our site are my personal practices, protocols and principles that are too sensitive for YouTube or other social media.
What would you do if you could not use the traditional hospital or doctors?
I hope you enjoy this 30 day journey showing you how I completely healed this deep laceration on my ankle and thumb without antibiotics, sutures or steri strips to close the wound.
Please watch the other video course I did called: Rapid Wound Regeneration and Healing Protocols.
Some of the Earth Shift Products used are: Iodine and Fulvic Acid, MSM, Sodium Bicarbonate, Activated Coconut Charcoal Powder, Ionic Magnesium Minerals, Living Silica, Coconut Oil and Cacao Butter.
Hope you enjoy this "Healing My Knife Wound Accident" Video Course :))
Dr. Robert Cassar
To see the following Video(s) and Recipes you have to be an Earther Member.
To become an Earther Member Click Here!
or Login to see the Private Videos.
Subscribe To Our Newsletter!
Join our Free Informative Newsletter to receive future updates on our next WORLDWIDE ONLINE Life Transformation Group Guided Retreats, and get access to a Selection of Private Videos. You will also receive a coupon for 25% Discount Coupon for Earth Shift Products!
The Earth Shift Discount Coupon is good for one-time use, and is valid for 25% off an order of $200+. This code includes free ground shipping within the 48 contiguous states. This code cannot be combined with other promo codes.