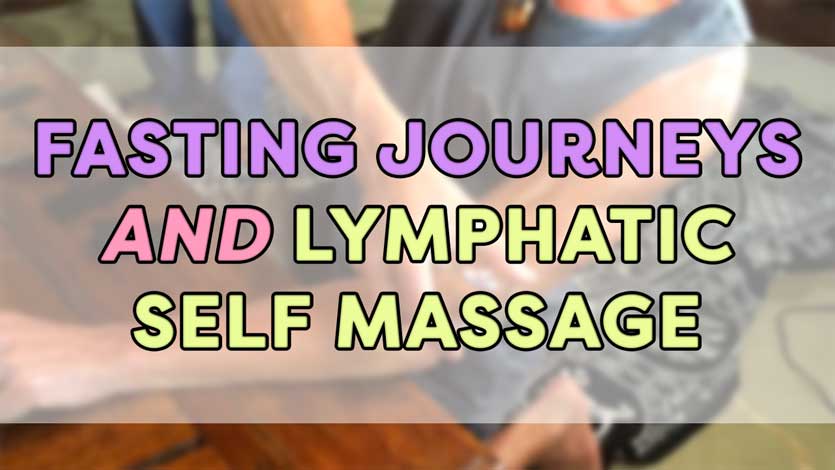 Fasting Journeys and Lymphatic Self Massage
Fasting Journeys and Lymphatic Self Massage – Have you ever fasted for 1-21 days before on Pure Distilled Water or what I call "Dry Water"?
Distilled Water is Dry Water because it is void of any minerals, and is 100% Pure Water (commonly known as H2O). This translates to only 2 Hydrogen and 1 Oxygen Molecules which can be easily measured with a TDS meter. Distilled or Dy water is "000" ppm (parts per million).
Dry water fasting, or distilled water fasting, is one of the best ways for everyone to reset the body and mind's biology like no other simple "Self Massage" therapy can.
Always remember the entire body is made up of approximately 18 gallons of a salty water solution. Distilled Water is the most effective detoxification liquid I have found for over 40 years of clinical research with myself and patients.
This is the reason why we are only going to ingest Pure Water/Distilled Water for about 7-21 days to detox and rejuvenate the tissues, along with a variety of collective therapies.
Part 1 (45 min) is an Informative Distilled Water Fasting Lecture, and we will share with you some great fasting tips. We have a beautiful group of "Dry Water Fasters" from around the world with this current 21 day Hawaii fasting/detox and rejuvenation group.
Part 2 (50 min) is a Hands on Lymphatic Self Massage Workshop. This course will show you some very effective beginning and intermediate protocols, disciplines and practices of self deep fiber massage with our youngest faster – 15 year old Franz.
These types of self therapies are some of the best and effective ways, to start to break down the hard tissues underneath the skin we call the "lymph and fatty tissue". We are also going to show you deep compartmentalized massages in many areas of the body.
It is always good to see how you work this therapy on a variety of male and female body styles. Most people will be very sore and bruise at first, however this is a sign of the body becoming crystallized and clogged in many ways.
Remember, these hard areas are full of toxicity, acidic crystals and parasitic colonies of yeast, mold, fungi, candida and many others that live right underneath the area of the skin. They will get softer in time and will start to reduce with your dietary upgrades.
Again, these areas of our tissues will be sore for sure when you start this therapy. You will most likely feel and look a little bruised. The deeper tissues will definitely hurt more and even may even bruise for a few days. This is normal and these bruises and soreness shall dissipate in time.
As you are watching TV (watch a learning documentary or one of our video courses), spend the time self-massaging various parts of the body.
Softening up the body's hard tissue takes a lot of time. The more body fat you have accumulated the harder and thicker the tissues become.
The tissues should not hurt at all when they are fully healed and flowing once again. It make take several months/years to accomplish this normal physiology, depending on how toxic and hardened you have become.
To learn and practice these therapies correctly, it will take some time to get comfortable with the limits of what you can do in one session.
Recommended Courses and Categories: Healing Irritable Bowel Syndrome and Crohn's Disease, Skin Cleaning, Detoxification and Rejuvenation, Massage Techniques, Abdominal Visceral Massage Techniques and Water.
Recommended Products for Deep Lymphatic and Fatty Tissue Massage: Magnesium Chloride and Living Silica, Organic Coconut Oil, Cacao Butter 1lb, Jade Massage Tool Set and Fulvic Acid.
Hope you enjoy this "Fasting Journeys and Lymphatic Self Massage" Video Course :))
Dr. Robert
To see the following Video(s) and Recipes you have to be an Earther Member.
To become an Earther Member Click Here!
or Login to see the Private Videos.
Subscribe To Our Newsletter!
Join our Free Informative Newsletter to receive future updates on our next WORLDWIDE ONLINE Life Transformation Group Guided Retreats, and get access to a Selection of Private Videos. You will also receive a coupon for 25% Discount Coupon for Earth Shift Products!
The Earth Shift Discount Coupon is good for one-time use, and is valid for 25% off an order of $200+. This code includes free ground shipping within the 48 contiguous states. This code cannot be combined with other promo codes.