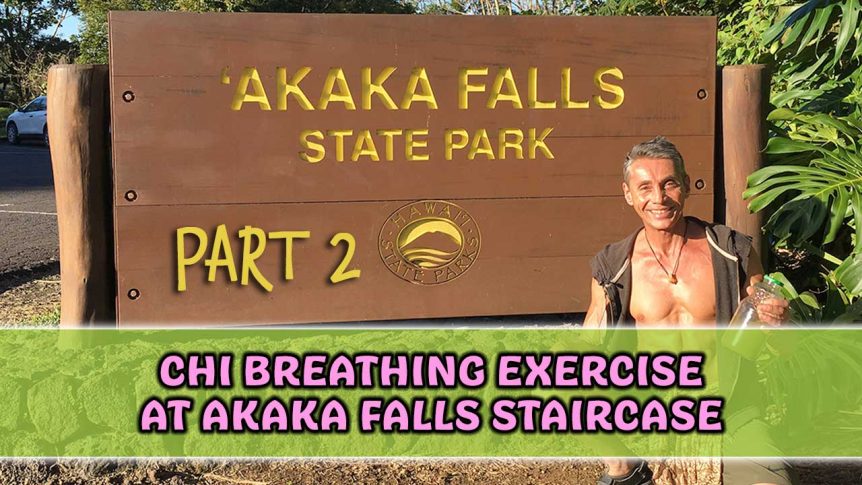 Chi Breathing Exercise at Akaka Falls Staircase
We are going on a field trip/tour to Akaka Falls State Park on the Famous Hamakua Coast, Big Island of Hawaii, and do a Chi Breathing Exercise. There are approximately 1 million visitors a year that come to visit this beautiful state park.
The Akaka Falls State Park is only a few miles from my house, and I like to run the park stairs a few times a month to do an "Chi Breathing Air Exercise Therapy" since of all the oxygen and super clean charged air is always present.
There are 2 water falls in the park to see, and many small streams through the pleasant 0.4 mile uphill hike will take you through a lush rainforest filled with wild orchids, bamboo groves and draping ferns.
The main attraction is a 442 ft water fall and another 100 ft waterfall called Kahuna Waterfalls. You can walk through the tropical rainforest with a variety of beautiful tropical flowers, and the smell of a super oxygenated air from the waterfalls and all of the plants.
In part 1 (17 min) we will take a short car ride/tour to the park and a short mini lecture along the way. We will also show you my profoundly simple "Secret Detox Foot Remedy" and "Chi Exercise Therapies/Exercises" that really help keep me in super shape all year round.
Have you ever tried "Foot Detox" Exercise Therapies?
Do you have Stinky Feet?
Callous/Hard Skin?
Yellow/Scaly Skin?
Toe Nail or Foot Fungus?
Arthritis or Sore Feet?
These simple effective exercises and foot therapies will help you tremendously for sure.
Part 2 (45 min) is a hands on workshop at Akaka Falls State Park in Hawaii.
Akaka Falls Park has a 1/2 mile loop with over 400 stairs to either walk or run. We are also going to show you a very effective Foot Detoxification Therapy that I always use when running or hiking. These simple but very effective foot detox therapies while exercising is a great way to detox the feet and get super fit/healthy. No gym membership necessary – all you need is to be in Nature and follow the simple protocols 🙂
When we exercise correctly/smart we increase our energy and vitality immensely. Instead of feeling tired and super sore from the exercises and therapies we all do. These exercises and foot detox therapies are for your sore toxic feet and clogged circulatory systems, and they support/reduce massive toxicity that we all have accumulated in our feet.
These simple, easy and free self-administered therapies are a part of the Terrain Modification Protocols for health and wellness and to rebuild and reset yourself.
Remember, Akaka Falls is a 400+ ft water fall filled full with "Super Oxygen" and a super beautiful state park for the eyes to see and heart to feel. So, when visiting the big Island make sure you go see the park. It is always good to exercise with as many negative ions as the air can give you.
If you can always exercise in clean air and places where real nature is the king of the hill. Nature is the best healer and will totally reset your mind and body from all of the synthetic artificial worlds that most of us live in all week long.
So, where do we find the negative ions or the high levels of O2?
Clean beaches, oceans, lakes, waterfalls, nature hikes in the mountains, clean air and green foliage, nature in general, etc. are where all the negative ions and chi from nature are mostly found.
Recommended Products for Foot and Hand Detoxification:
Recommended Courses and Categories: Hand and Feet Detoxification, Hands and Feet Cleaning and Detoxification Master Class, Chi Breathing Cardio and Foot Detoxification Therapies, Personal Outdoor Exercising Programs and Detox Foot Therapy, Exercise, Stretching and Movement.
Hope you enjoy this "Chi Breathing Exercise at Akaka Falls Staircase" Video Course :))
Dr. Robert
To see the following Video(s) and Recipes you have to be an Earther Member.
To become an Earther Member Click Here!
or Login to see the Private Videos.
Subscribe To Our Newsletter!
Join our Free Informative Newsletter to receive future updates on our next WORLDWIDE ONLINE Life Transformation Group Guided Retreats, and get access to a Selection of Private Videos. You will also receive a coupon for 25% Discount Coupon for Earth Shift Products!
The Earth Shift Discount Coupon is good for one-time use, and is valid for 25% off an order of $200+. This code includes free ground shipping within the 48 contiguous states. This code cannot be combined with other promo codes.