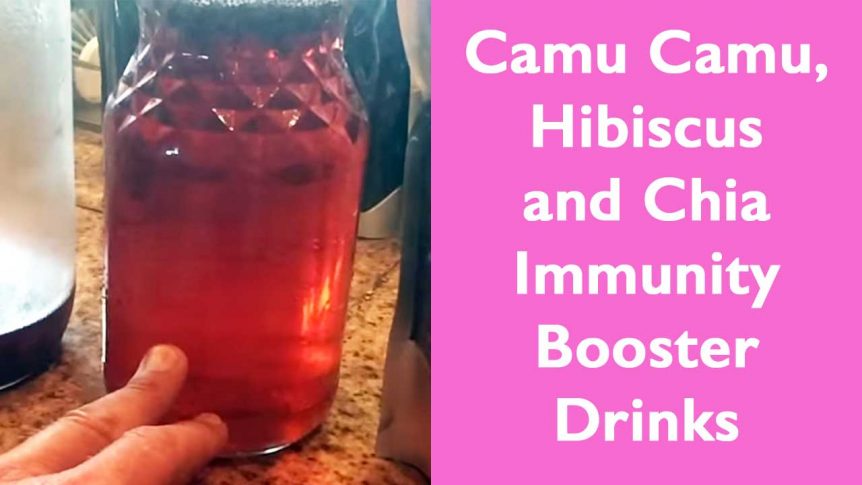 Camu Camu, Hibiscus and Chia Immunity Booster Drinks
Camu Camu, Hibiscus and Chia Immunity Booster Drinks is another beautiful version of one of the many Liquids of Vitality Elixirs. We are going to show you how to make 2 recipes: Camu Camu Immune Booster and how to make the Hibiscus Flower Concentrates.
This easy to make "Immunity Booster" Elixir is specifically designed for boosting the immune system, body and mind.
Remember, this is a full complete nutritious meal loaded with Vitamin C, Protein, Ionic Minerals and many other immune boosting ingredients.
I usually have this drink 1 – 2 times a week.
I always recommend using this Immune Booster Drink when you feel run down, or just don't have the zip in your walk and the clarity in your mind.
Do you have depression or always feeling tired?
This is a sure sign of some major deficiencies and dysfunctions in the body and mind for sure.
When the body and mind are healthy, the body is always full of energy and the mind doesn't ever feel psychological depression.
So, low energy and feeling depressed are two symptoms of the body's way of saying your immune system is weak and not vital.
Our "Gut Wall Flora", when healthy, are our true internal peace warriors in our the bodies that massively assemble together.
One of the highest amounts of Vitamin C is in the plant called Camu Camu. Move over, Acai: there's a new Brazilian superstar fruit in town :))
This isn't a fruit you'll find on a tree or bush in your neighborhood. Camu Camu mostly grows in flooded areas of the Amazon rainforest in Peru, Brazil, Colombia, and Venezuela, where it's fruits and leaves are used for medicinal purposes.
Natural health aficionados claim that Camu Camu has anti-viral properties that can help with cold sores, herpes, shingles, and the common cold. Others say it's a natural energy booster that's great for your eyes and gums.
I find the synthetic Vitamin C doesn't work at all like naturally derived Vitamin C from special plants grown in the amazonian forest.
We also use another high Vitamin C plant called Hibiscus Flowers to add to the elixir drink.
Recipes
Camu Camu, Hibiscus and Chia Immunity Booster Drink
Use a 32 ounces ( quart size ) or larger mason jar with Bisphenol A free top.
Fill Mason jar 3/4 full with Distilled Water.
Optional: 1/2 tsp Green Gem Chlorella, 1 tsp of Pharmaceutical Creatine Monohydrate, 200mg of Niacin, 2 Tongkat Ali's
Usage: Once per week
All the products are available on EarthShiftProducts.com
Brewing the Hibiscus Flower Concentrate.
Brew in the Sun or on your counter for a few hours, and you're ready to use this for a variety of drinks.
This Hibiscus Flower Concentrate will keep in the refrigerator for a few weeks or so, before starting to ferment and not taste good.
Use 1 – 2 ounces of the concentrate to make a variety of 15 – 20 drinks.
You can learn more from these categories: Liquids of Vitality Recipes, Stimulating Brain Chemicals and Rejuvenating for Vitality.
If we are what we "Eat, Drink, Say, Do, Exercise", then it's simple to see this truth so clearly.
To really learn and practice the variety of Terrain Modification Techniques, you can learn more from our private school by becoming an Earther Member.
We have hundreds of private videos on many beginning, intermediate and advanced techniques, protocols, disciplines ideas, concepts etc. to take your experience to the next level of detoxification and rejuvenation.
Learning the Terrain Modification Principles is a must to live healthier in this world that is so dysfunctional and toxic.
Everything in Life is all a "Work in Progress".
Hope you enjoy this Camu Camu, Hibiscus and Chia Immunity Booster Drinks Video Course :))
Dr. Robert
To see the following Video(s) and Recipes you have to be an Earther Member.
To become an Earther Member Click Here!
or Login to see the Private Videos.
Subscribe To Our Newsletter!
Join our Free Informative Newsletter to receive future updates on our next WORLDWIDE ONLINE Life Transformation Group Guided Retreats, and get access to a Selection of Private Videos. You will also receive a coupon for 25% Discount Coupon for Earth Shift Products!
The Earth Shift Discount Coupon is good for one-time use, and is valid for 25% off an order of $200+. This code includes free ground shipping within the 48 contiguous states. This code cannot be combined with other promo codes.